Every week I seem to come across another connection between New Jersey and baseball's past, sometimes a significant part of it or something that should be more well known than it is. The most recent find goes back to a Hall of Famer from the 19th Century — and the game's segregated practices.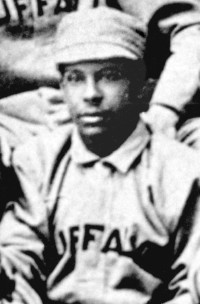 This spring, the Negro Leagues Baseball Grave Marker Project installed a stone on the previously unmarked resting place of Ulysses Franklin Grant, better known as Frank Grant — perhaps the greatest black player of the 1800s. Born in Massachusetts, Grant died in New York City in 1937, but when pallbearers Sol White, Smokey Joe Williams and Nux James laid him to rest, it was at East Ridgelawn Cemetery in Clifton, N.J. The cemetery is not even 10 minutes from my house, so I took a drive over there.
Why Grant was buried in New Jersey is a mystery. He was poor, and so there was no headstone, but despite the lack of a marker, the location was preserved in cemetery records: Section 14, Block B, Row E, Number 6. And though articles written about Grant in 2006, when he was part of the Hall of Fame's largest induction class to date, said his grave would never be marked, that changed this year when Jeremy Krock and his group delivered the headstone. I don't know if it was a change of heart or a change in policy, but it's a welcome change. A player of Grant's historical signifigance should be honored and remembered with a headstone, at the very least.
From 1886-91, Grant played in integrated professional leagues in the Northeast. From Meriden, Ct., to Buffalo to Trenton to Harrisburg to Ansonia, Ct., Grant played (occassionally with Sol White as a teammate) in the Eastern League, International League (and later International Association), Middle States League, Eastern Interstate League, Atlantic Association and Connecticut State League. He was one of a handful of black players suiting up for white teams before segregation was more strictly practiced. In researching Grant's life, I found it interesting that once the International League forced Buffalo to cut ties with Grant, segregation became the norm, and when Jackie Robinson re-integrated what is referred to as Organized Baseball in 1946, he did so in the International League. In fact there may be a direct connection between Grant and Robinson from 1890, when Grant's Harrisburg Ponies may have come to Newark and Jersey City in Atlantic Association play, to 1946, when Robinson's Montreal Royals opened the season at Roosevelt Stadium in Jersey City. During the intervening 56 years, it may be that no black player suited up for an otherwise "white" team in a "white" or "Organized Baseball" league in New Jersey. (Grant, for one, did play in New Jersey often over the next two decades on all-black teams, either against other black clubs or in exhibition games against white teams.)
But that's just speculation. The full, detailed, day-by-day history of "outsider baseball," as writer and historian Scott Simkus refers to the players who weren't part of the Organized Baseball structure, may never be known because of the lack of records and contemporary coverage remaining today. But that doesn't mean we can't try, and Simkus and Gary Ashwell are among those doing noble work in digging up newspaper archives and other sources to put the pieces together. For a very detailed look at Grant's life, check out Brian McKenna's profile at SABR's Baseball Biography Project. Official MLB historian John Thorn also has two informative posts about Grant, one from 2006 and another from earlier this year. Each one goes into much more detail than I could hope to, at least not without several weeks of research or citing every sentence with a link back to their posts. (And for more on the Negro Leagues Baseball Grave Marker Project, here is a recent Chicago Tribune story and a New York Times article from last year that take a closer look at what Krock and his colleagues have done.)
Grant now rests in a quiet corner at East Ridgelawn, an 80-acre cemetery bordered by busy roads and divided by lanes allowing visitors to drive through the grounds. A large oak tree towers over the east end of Section 14, not far from a fence running along Fenlon Blvd. I wondered if the neighbors across the street knew of the famous ballplayer here beneath the lawn. Based on the photo accompanying a local story, I set out looking for a flat marker decorated with American flags. It didn't take me long to spot them across the undulating grounds, waving in the breeze. Dried, yellow grass from a recent mowing covered half of the inscription, but otherwise the stone looked new, but not fresh — like it had been there for a few years, not a few months. I brushed the crusty blades of grass from the surface and took some pictures.
Other plots in the vicinity have headstones, but nothing within a few feet of Grant's grave. Though he must have "next-door neighbors" there, they lie in still-unmarked graves. I stood there a while wondering what the area looked like in 1937 and how it came to be Grant's final resting place. What did Sol White — who died in 1955 and is buried on Staten Island — and Smokey Joe Williams think of bringing their former teammate (in White's case) and friend to the Garden State?
As I walked back to my car, I figured I'll check in on Grant every so often, just to make sure he's not forgotten anymore and that Krock's efforts to have Grant's gravesite recognized are appreciated.